STEPPING OUT TO CELEBRATE LIFE 2013
Preview our exciting Live Auction items and plan your bidding strategy!

Up for bid —  eleven fabulous live auction items including exotic get-aways, a day on the bay for 20+ of your closest friends, our priceless wine library, and a luxurious golf experience, to name a few.
Item 1  A week in Scottsdale AZ  – Value $1,610
Escape to the Sonoran Desert.  Enjoy a week's vacation at the Sheraton Desert Oasis Villas in Scottsdale in a premium 1 bedroom villa. Nearby activities include hiking, horseback riding, golf and gourmet dining.  At the end of the day, relax at a poolside cabana and take a dip in the 4,500 square foot swimming pool with cascading waterfalls.
Item 2  Sailing Party On the Bay for 20 + – Value $3,500
An afternoon on the San Francisco Bay. Welcome aboard the 82' Schooner, Seaward. Plan a family reunion, a graduation party, or simply invite 20 + of your closest friends.  Experience a fun-filled afternoon cruising the beautiful San Francisco Bay, under the Golden Gate, along the waterfront, and around Angel Island and Alcatraz. Lunch and cocktails provided. Maximum 30 people.
Item 3  Family Reunion at Tahoe Donner -Value $3,000
Seven nights at Tahoe Donner Meadow Estate . This unique four bedroom, four-and-a half bath home can sleep twelve.   Features offered with this Truckee home include a private deck and sauna, gourmet kitchen, expansive gardens, covered built-in gas barbeque, and hot tub.  Close to Northstar Ski Resort and Donner Lake.  Dining in nearby Truckee or Tahoe City.
Item 4  Stepping Out Wine Library – Value $3,000
This priceless wine collection is donated by tonight's models and Stepping Out committee volunteers. Explore and enjoy over 50 bottles of unique and interesting varietals from the wineries of Sonoma, Napa to the vineyards of Tuscany. All wines are valued over $30 with many worth significantly more.
* Item 5  The Mayacama Experience – Value $5, 800 
Enjoy a unique experience–a two-night getaway for four at Mayacama, a private golf and lodging community in Sonoma
Mayacama awaits you.  The Tuscan-inspired villas, clubhouse and spa are situated on 675 remarkably beautiful acres.  Your stay begins when you set foot in a charming casita or villa.  You will play two rounds of golf for four on the 18-hole Jack Nicklaus Signature Golf Course. Afterwards, you will be pampered with a spa treatment, lunch and dinner.  www.mayacama.com
* Item 6  North Lake Tahoe Getaway  – Value $5,100
Relax for a week at a lakefront condo at Tavern Shores.  A lovely 4-bedroom, 2 ½ -bath condo overlooking the north shore of Lake Tahoe will be your retreat.  Summertime offers a swimming pool, two tennis courts, beach volleyball and a pier.  Winter offers a tantalizing choice of nearby ski resorts for downhill and cross-country.  
Item 7  Jackson Hole – Spectacular Beauty at Your Doorstep – Value $6,000
Spend seven days in a luxurious four-bedroom Log Cabin Mountain Home.
Elevate your vacation to the year-round excitement of the Grand Tetons, Wyoming. Whether you love skiing, golfing, hiking or other outdoor sports, you can indulge in your favorite sport, at the time of your choosing, at this fabulous rustic yet elegant home.
* Item 8  Rancho La Puerta Health Spa – Value  $7,500
Voted "World's Best Destination Spa" by Travel & Leisure readers. Unwind during a one-week stay for two at the exquisite Villa Studios. As a world-renowned fitness resort and spa, Rancho La Puerta offers guests the opportunity to enjoy a week of fitness, healthy dining and spa treatments, all in a luxurious setting. Your stay includes all food and beverages. Transportation to and from San Diego International Airport is provided.    www.rancholapuerta.com
Item 9  The Ultimate Luxurious Wine Country Escape – Value $1,730
Two nights at the award winning Meadowood in the heart of the Napa Valley.  One of the true luxury resorts in Napa Valley, surrounded by a beautiful 250-acre valley.  Meadowood offers luxury accommodations, fine dining in its Michelin three-star restaurant, and a collection of amenities, activities and services including golf, tennis, croquet, hiking, swimming, fitness, and a full-service health spa.  Your two-night stay includes one dinner for two at The Grill.  www.meadowood.com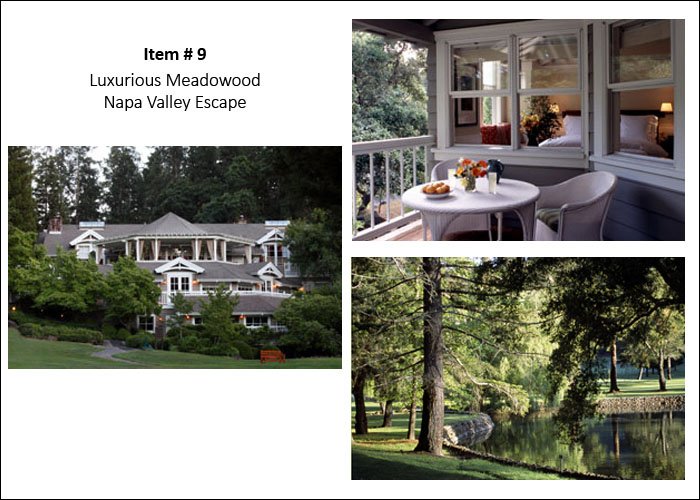 * Item 10  BIG ISLAND KOHALA COAST PARADISE  – Value $8,600
Say "Aloha" to seven nights at Kauna'oa Townhome at Mauna Kea Resort, Hawaii
Kauna'oa is an intimate gated residential enclave in the heart of the Mauna Kea Resort on the famous Kohala Coast. Your home will be a luxurious three-plus bedroom, three-bath en suite with ocean views, a private pool and hot tub. A short stroll takes you to two award-winning beaches. www.kaunaoa.com
Item 11  Fund A Need
EMERGENCY SERVICES
Raise your paddles to support Emergency Services.  Why?  Because when diagnosed with breast cancer, no matter who you are or what your circumstances, everything becomes an emergency. Your donation will provide funds for diagnostic testing, navigational assistance through the medical system, help with insurance
co-pays, transportation to doctor appointments, and direct support for help with rent, utilities, meals and counseling.
NO ONE SHOULD FACE BEAST CANCER ALONE AND WITH YOUR HELP, NO ONE WILL!
*Included in Best of Live Raffle