Stepping Out To Celebrate Life
In our thriver spirit we are holding a Virtual Gala September 26, 2020
Fund A Need
Our signature fundraiser is Stepping Out To Celebrate Life, an annual gala that takes place in September at the Marin Center Exhibit Hall in San Rafael, California. The highlight of this spectacular evening is an uplifting, inspirational fashion show featuring models thriving after breast cancer.
The origin of our Stepping Out gala fashion show is the very heart of To Celebrate Life. In 1996, 10 women in a dance class for breast cancer thrivers came together to organize an event that would raise money for local breast health organizations. Thirty seven models were featured on the 'runway' and 250 guests attended the first Stepping Out To Celebrate Life gala, held in a garden in Kentfield. The event raised $42,000 and the beginning of an annual signature event was born. Stepping Out not only raises money  but serves to celebrate those emerging from breast cancer treatment
Silent Auction
Silent Auction
Here we will have some teasers about the silent auction and also information related to it

Live Auction

The live auction will include pictures and descriptions of all items available
Organize an Event or Promotion.
How Online Bidding Works
What You Can Expect
This year's auction will use Greater Giving Online Bidding – allowing for a paperless bidding system. You will bid using your smartphone or tablet on silent auction items. Also, you can easily track Packages by "following" their activity without having to continuously return to a table or bid sheet.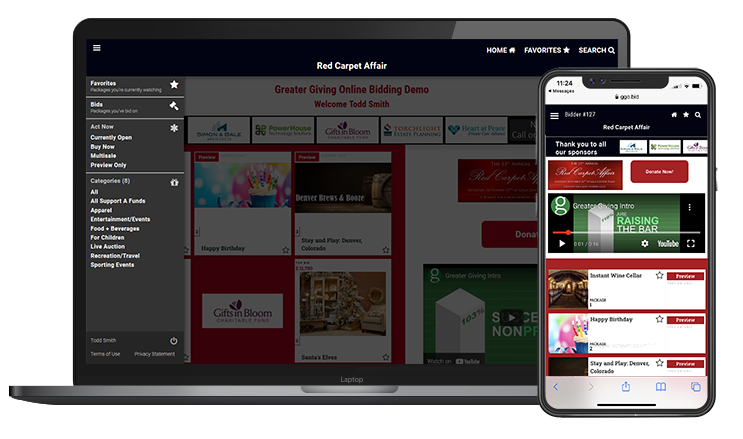 How to Mobile Bid with Greater Giving Online Bidding
Register your mobile number and credit card information on our registration page in advance of the event or upon arrival.
When the auction is open, you will receive an automated 'Welcome' text with your bidder link.
After clicking the link in the text, begin searching for packages by name, number, or category
Select the package you wish to bid on.
You can Bid the next increment or Bid More than the next increment
If you choose to Bid More you can choose to set your Max Bid. If your max bid is the highest, the system will automatically bid in your favor until you are outbid or until the silent auction closes. If your bid is lower than the highest max bid on that package, you will be prompted to enter a higher bid.
To purchase a package at the Buy Now price, select the Buy button.
To "watch" a package, select the star icon on the package.
To make a donation, select the Donation button on your home screen and choose a preset amount or select the Custom Amount button to enter the amount you wish to donate.
If you're out-bid at any point before the silent auction closes, you will receive a text message.
To view packages you are bidding on, click the menu button and select Bids.
To view packages you are watching, click the menu button and select Favorites.
Once the auction closes, the guest with the highest bid will win.
Under the Bids area you can check your winning packages.
Countdown to our Virtual Gala Event!!
Your contributions support multiple stages of treatment and a range of services for healing. We put your dollars to work in the community.