Our Financials
$250,000 distributed in 2014 – over $4 million since inception
Last year, the Foundation's main source of income continued to be generated by our generous sponsors and signature fundraising events. However, our increased income from Community Events and Fund-a-Need made a significant contribution to our bottom line.
After review and recommendation by the Foundation's Grant Review Committee made up of local health leaders, community members and representatives from our Board of Directors, on April 1, 2014 To Celebrate Life awarded a total of $250,000 to 19 Bay Area nonprofits.  These funds were generated during the year 2013.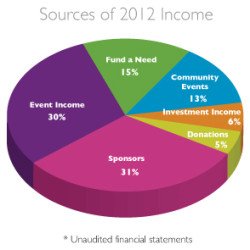 To maintain its long-term sustainability the Foundation development activities include community events, our planned giving campaign (Celebration Circle), grants from foundations, memorial/legacy funds, giving circles and gifts from major donors.  Plus the hours and hours of work done by our volunteers, allowing more funding to go to breast cancer services.
Note:  As soon as all final reports are tallied from our 2013 Grantees, the two adjacent graphics will be updated to reflect correct percentages for the previous year.

Read Our 2012 Annual Report
Learn how your dollars + our stewardship = proven results. See what we accomplished because so many sponsors, donors and volunteers said "YES"! The annual report includes more information on our financials, grantees and events. You'll also meet  some  people who have benefited directly from our grants.
Complete list of 2013 Donors and Sponsors
To Celebrate Life Breast Cancer Foundation raises funds through:
Ticket sales and auction proceeds from our annual Stepping Out To Celebrate Life gala
Proceeds from Rally To Celebrate Life and Tee It Up To Celebrate Life tournaments
Corporate sponsorships
Private donations
Underwriting grants
Auction and raffle donations
Service donations
Other community events
To make a donation please use the online donation form – or contact us at (415) 455-5882 or info@tocelebratelife.org.